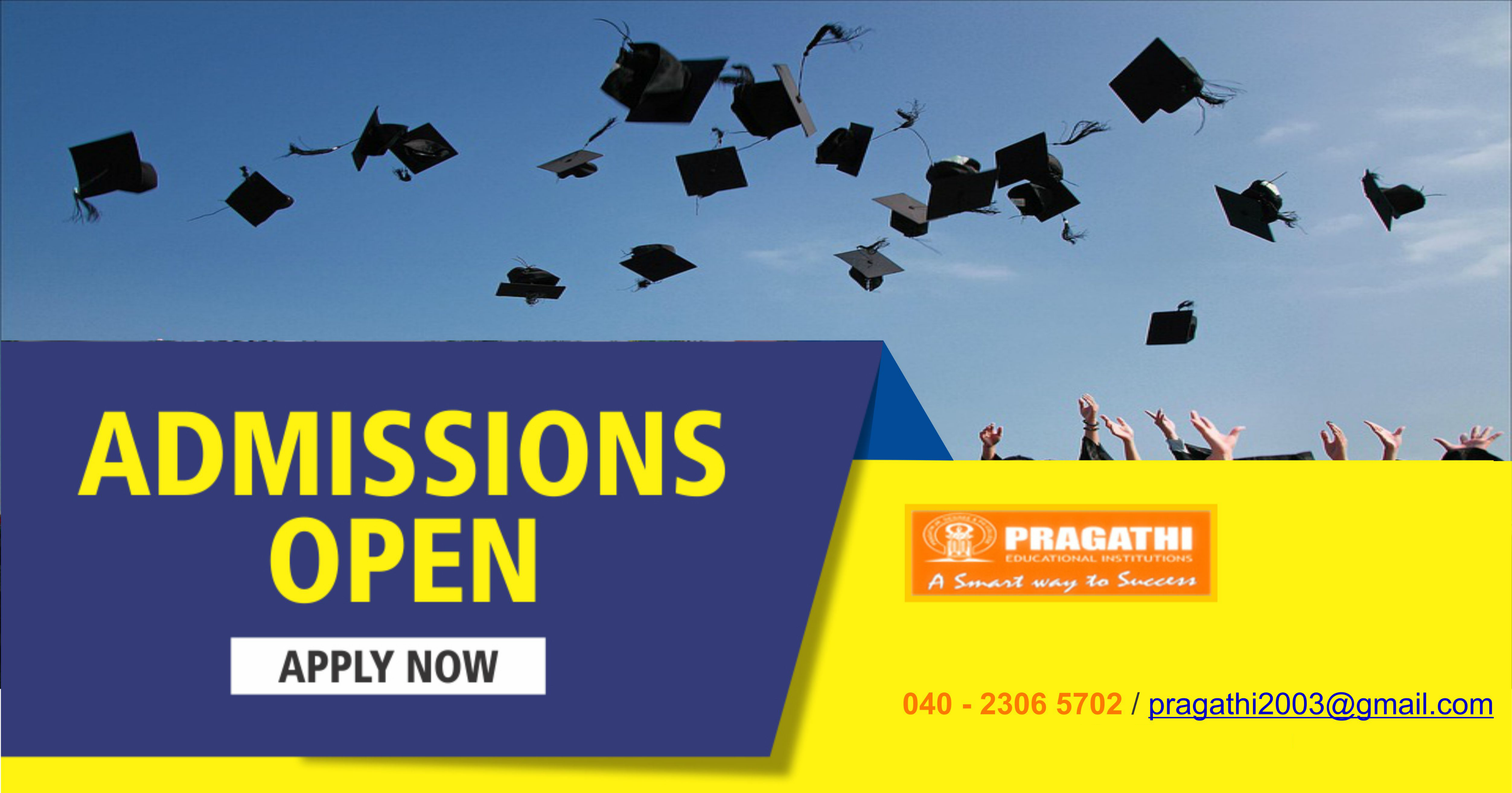 Contact for College Admission Details:-
Ph: 040-2306 5702 / 8374664613 / 9908033469
pragathi2003@gmail.com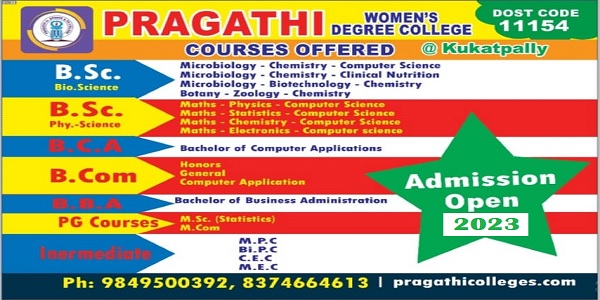 Choosing a right college is one of the most crucial decision of one's life, as this is the age of cut-throat competition. Parental and peer pressure, fear of incorrect choice of college, leave the students tizzy, worried and confused. Here you are – at the right place. Hassled counseling, over crowded corridors, jam packed classes are just a No-No at Pragathi The college gives a secure admission to every student and the nightmares of admission blues do not haunt the students. Every step is guided and facilitated by the Admin. Branch.
College being secular in nature invites the students from all religions and sects, promising to promote them to transcend in all walks of life, with their well sought vision.
All the Pragathi College branches are housed at the prime locations in the city which provides connectivity and avoids inconvenience in traveling to and fro.
The Management Members of Pragathi are top academic credentials, having excellent general awareness and eagerness to reach out to the varied requirements of each and every student.
Pragathi – A name that provides you a warm, friendly and amicable ambience, focused on holistic growth.
Pragathi – A name you can - depend on, believe on and rely on.
SELECTION PROCESS
Candidates can collect application from the college office and appear for a personal interview with the concerned department. The admissions are taken on the basis of student's Inter percentage and his/her performance in the interview.
DOCUMENTS REQUIRED FOR ADMISSION
Transfer Certificate
SSC Memo
Inter/Equivalent Exam pass Certificate and Memo
Bonafide
All the relevant information regarding admissions is available at the Admin Branch.
Get in Touch
Intermediate- Recognised by BIE TS
English & Telugu(Medium) :
Post Graduation- Affiliated to OU - Hyd
Graduation- Affiliated to OU - Hyd
Business Administration :
Commerce :
B.Com (Computers)
B.Com (General)
B.Com (Computer Applications)
Graduation- Affiliated to OU - Hyd
Bio-Sciences :
Bio.Tech - Microbiology-Chemistry(M.C.Bt)
Botany-Zoology-Chemistry (B.Z.Ch)
Micro-Chemistry-Computer Science (Mi.Ch.Cs)
Micro-Chemistry-Clinical Nutrition (Mi.Ch.Cl N)
Phy-Sciences :
Maths - Statistics - Computer Science (M.S.Cs)
Maths-Electronics-Computer Science(M.E.Cs)
Maths-Chemistry-Computer Science(M.Ch.Cs)
Maths - Physics - Computer Science (M.P.Cs)
Contact for College Admission Details - 040 - 2306 5702 / pragathi2003@gmail.com
Let Us Call You
Locate Us